Visit SupportConnection.org
The Challenge
Westchester Marketing Cafe redesigned the Support Connection website over four years ago and while the page structure stood the test of time, the site was looking a bit dated.
Online payments were also a challenge because the original theme did not play well with the payment gateway. As a result, online sponsorship payments and donations were problematic; a significant hurdle especially once COVID hit and virtually all events went online.
We wanted to leave most of the current content intact. This meant we needed to update the look without reformating every page.
Finally, essential features, such as site search, the support number, and a link to information about the new retail shop needed a more prominent place on the site.
Solutions
We began by creating a new theme that leveraged the technical improvements in WordPress since the last redesign. The new theme and limited use of plugins made the site faster and easier to update.
Additionally, the new WordPress theme employed fresh page layouts. For example, we were able to remove the default sidebar, which was no longer needed. This allowed us to efficiently restyle the site without having to recreate the individual pages.
We were also able to build online registration forms and sponsorship payments, something donors had come to expect.
Key Successes
The redesigned header made room for a bold search form with the councilor phone number up-front and center.
Integrating graphic elements into the main menu makes navigation clearer.
Adding toggles for color contrast and text-size makes the site more accessible to users with visual impairments.
What Can You Learn?
If your content is up-to-date, often a "nip and tuck" of the styles can improve the usability of your website. Graphical elements can be added to make the site more-user friendly, for example.
Well-written blog posts can be kept and recategorized to make it easier for both readers and search engines to find important content.
What The Client Had To Say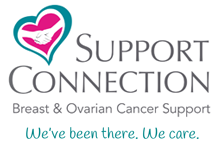 We received a call today from a business in Katonah that has decided to do a fundraising event on our behalf. When Kathy [Quinn, Executive Director] asked the business owner how she heard of us, she said she found us via a Google search. (She was looking for a local breast cancer organization to contribute to.) She told Kathy that after viewing the video on the homepage of our website and going through the rest of the information on the website, she was convinced that Support Connection was the right organization for them to support.
We wanted to share this with you so you can see hard evidence of the impact you've had! Thank you Jann, for your guidance and expertise on building a better and more effective website for us! We could not be more grateful!
Barbara Cervoni, LMSW, ACSW
Support Connection