What is an Editorial Calendar you ask? It is an essential tool for consistent, quality content creation.
Let me be honest. I knew I was due to write a blog article, but I was not sure what would be relevant and useful. Typical "ahhh…what now?" kind of moment.
In an effort to a) follow my own advice and b) show how content creation doesn't have to be torturous, I thought I'd share with you some thoughts on getting past the blank page.
Create An Editorial Calendar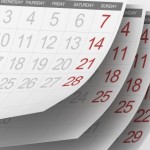 Check out "Creating Content For A Small Business Website" for more information on creating editorial calendars. What questions do you find yourself answering all the time? They are all topics. They also begin a conversation with your readers so when they call you you're further along the sales funnel.
It's the start of a new year so why don't you start the year on the right foot by taking a few minutes to jot down some article topics in your calendar.
Ad Hoc Topics
What business-related topics do you find yourself ranting about? That's an article – though you may want to tone down the rant and turn it into something productive for your readers. I found I was spouting off about "social media experts" (OK, I was gently TOLD I was spouting off…) So I wrote an article; "If You Call Yourself a Social Media Expert…Have a Facebook Page!".
Start to pay attention to these hot-button topics and make use of them. It takes some practice to move beyond the soap box and turn your rants into great content for your website. But once you get into the habit you can turn what might be a roadblock into an opportunity.
Guest Authors
Inviting guest authors is a fabulous way to create new content for your website; and it helps to build relationships with clients, strategic partners, vendors etc. Any of these folks could help you with content for your site. Make the invitation more enticing by offering to include a bio and link back to the author's website.
Guest authors drive additional traffic to your website from their readership and in return, your site sends traffic to their website from your readership. It's the ol' Win-Win scenario.
Marketing Cafe has had the pleasure of including guest authors recently: Elevator Speeches that WORK written by Karen Graves of YourSalesFix.
Recycle, Reuse
"Creating Content For A Small Business Website" also talks about repurposing content.
Taking a look at your earlier posts may seem a bit like re-reading your diary but it can be very useful. It can provide inspiration for new articles. It can provide fodder for you to update and talk about what's new in your industry. A lot changes in a year, never mind two or three.
But you don't need to recreate the wheel all the time.
Consider doing a mashup between Creating An Editorial Calendar and Recycling. Go back through earlier posts and jot down some notes for future posts.
Notice how many of these techniques I used right here in this article? Once I got going, writing became easier. But as any writer will tell you staring at a blank page can be daunting.
So start off the new year with a new resolve (notice I didn't say resolution?!) to create more content for your site. Begin with a plan.