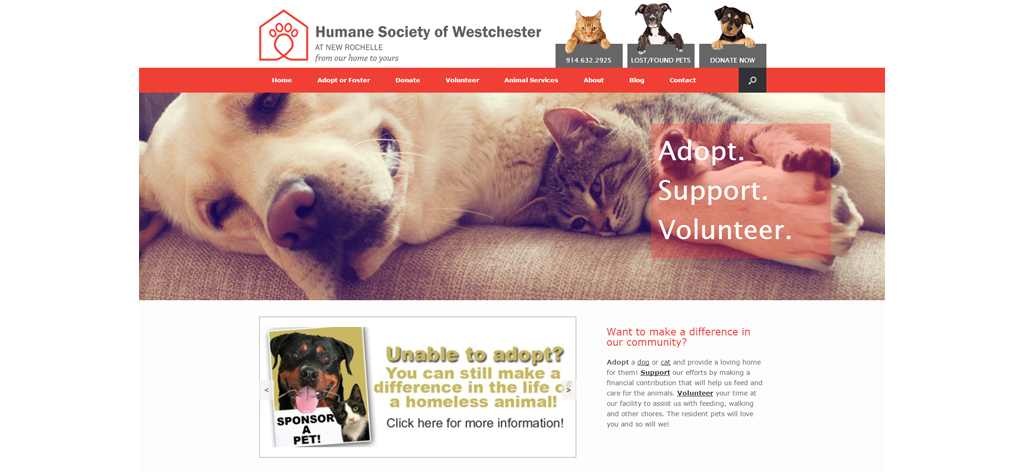 Westchester County, NY (November 24, 2015) Just like for-profit businesses, it's important for nonprofit organizations to have updated websites that are user-friendly, utilize online fundraising capabilities and effectively communicate their mission.
Any nonprofit's website must provide a clear value proposition that speaks to their audience, according to Westchester Marketing Café LLC Owner Jann Mirchandani, who announced the completion of two website upgrade and redesign projects for the local nonprofit organizations Humane Society of Westchester at New Rochelle and the Alliance for Safe Kids (ASK).
"Nonprofits are not unlike for-profit businesses when it comes to website optimization," said Mirchandani. "It is important for an organization to understand their target audience and in the case of nonprofits this usually includes both donors – individuals as well as foundations and endowments- and those they serve."
The website for Humane Society of Westchester (formerly known as New Rochelle Humane Society) had to be completely rebranded with a new name, logo and color scheme to better reflect the services the animal rescue nonprofit provides to 19 communities in Westchester County.
Mirchandani said the biggest advantage of the new site is that the staff can now make content edits themselves.
Employees have the ability to add information about events and update the site with "Happy Tails" about pets finding their forever homes easily and quickly, without having to pay a vendor to do it as was done in the past.
In addition to the improved content management features Mirchandani and her team of web designers also added several online forms to collect volunteer applications, pre-adoption information and improve the ease of making online donations.
Although the website is brand new, it is already generating positive results: Mirchandani said within three days of launching, the site received 40 pre-adoption applications from prospective families, four reports of lost pets and five donations including sponsorship for an animal in need.
Mirchandani said it is important to her to give back and help nonprofits and works with the resources they have within their budget to meet their goals.
Alliance for Safe Kids was able to get the most out of its budget by having staff familiar with WordPress make the content edits themselves, which enabled the Westchester Marketing Café team to focus on the more technical aspects of the project.
A major priority for the ASK site was making it mobile-friendly.
"These days it's super important to have a mobile-friendly website for a number of reasons," said Mirchandani. "First and potentially most importantly, Google now gives priority to mobile-friendly websites. Mobile Internet access surpassed desktop usage last year and Google's algorithms take that into account. In addition, you want mobile readers to have a positive experience; the page should load quickly without using a lot of data and be easy to navigate, including being able to read content without zooming in and out."
Another priority for the ASK site was to better highlight important events by taking a large amount of information from a variety of sources on the old site and consolidate it.
"As with both projects, there was a tremendous amount of content on their existing websites and deciding what needed to stay, what was going away and what needed to be updated," said Mirchandani.
After developing a new content development strategy, ASK staff was able to audit the content with an eye to what was most relevant for their readers, which was information about events happening in the community and how to support youth within the community, and delete all irrelevant information.
Alliance for Safe Kids also gained the ability to take online donations, a capability the nonprofit did not have on its old site, by partnering with a third-party vendor to help manage their donor and volunteer lists and keep in touch with their readers.
"Westchester Marketing Café made our vision of a new website come to life," said Erica Stanzione, ASK Director of Communications and Partnerships. "Jann and her team are very professional and easy to work with. Not only did they hit the nail on the head when creating our vision down to the widget, but they also walked us through how to use the features so we can make sure our website is always looking its best. We can't thank them enough!"
For information on Humane Society of Westchester at New Rochelle, call (914) 632 – 2925 or visit HumaneSocietyofWestchester.org.
For more information on Alliance for Safe Kids, call (914) 736 – 1450 or visit AllianceForSafeKids.org.