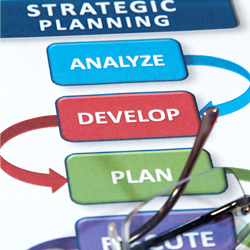 The latest trends say that content is an effective way to build brand awareness, increase sales, and retain your customers. And you think, so I'll start a blog, add a video to my Facebook page, and post a topic of interest on my LinkedIn profile.
That should do it.
Ah, if only it was that easy.
The truth is, good content can help you achieve all these goals BUT only if it is based on a well-planned and executed content strategy.
Basically, this means creating compelling and valuable content (and by content, we're talking anything that's visual, audio, or written—online and in print) to a target audience and distributing that content through a variety of channels on a regular basis to capture the readers' interest and prompt them to action.
And a good content strategy isn't a one-time solution but an ongoing process.
6 Steps to Developing a Successful Content Strategy:
Have a Clear Goal in Mind
Saying you want to "increase sales" is too vague. Really think about what you want to achieve and set measurable milestones such as a specific percentage or dollar increase in sales or the number of clicks to your website. Whatever the goal, put a definable metric to gauge success.
Define Your Target Audience
Are they local, regional or national? Do you sell to a specific industry or to key positions with an organization? Perhaps you have multiple customers, each with different needs requiring different content? Be sure to customize the content for each group.
What Will Capture Their Attention?
Don't make the mistake of writing for your peers and not your customers. Create content that addresses your clients' pain points and shows how you can solve their problems. Be informative but interesting. Readers love numbered lists (like this one). Limit technical pieces to industry blogs or publications.
Why Should They Use You?
Studies show that most purchase decisions are made emotionally. Content such as case studies, success stories and testimonials, in a variety of formats, will resonate with your customers and position you a solution to their problems.
How Will You Reach Them?
Consider ALL available marketing channels, from your website to newsletters, infographics, videos, podcasts, blogs, direct mail, and articles. Just make sure your message is consistent across all channels.
Track, Evaluate, Refine, Repeat
Use various tracking methods, such as Google Analytics for your website or marketing reports from your email newsletter provider, to see which content gets the most interest. Evaluate your strategy at specific intervals – say every 3, 6 or 12 months – and adjust your content as necessary.
While an effective content strategy requires an upfront investment of your time and resources, it will pay for itself in greater company awareness and sales. Bear in mind that a content strategy is scalable to fit most any budget. Companies have become more strategic in their content marketing, you can't afford to be left behind.
For more ideas, visit https://contentmarketinginstitute.com/developing-a-strategy