Jann's passion, expertise and contagious energy make her a sought-after speaker for digital marketing workshops and classes.
Join her for one of the following upcoming events or contact her to schedule an event.
---
"Your Digital Marketing Guide: A Checklist"; Grow Conference workshop, Westchester Community College
Fri., January 25, 9:00 am-6:00 pm.
The annual GROW Your Business conference is Westchester Community College's signature entrepreneurship event. GROW inspires and empowers entrepreneurs and business owners across the Hudson Valley. The full-day forum offers the nuts and bolts of growing your business and maximizing success, with a focus on networking, mentoring, business development and driving revenue. Attendees are able to tap into a network of like-minded business leaders, potential partners and resources, and hear from marquee-name professionals and innovators from Westchester and beyond.
This is an energetic full day of learning with an inspiring keynote speaker and breakout sessions, followed by a networking reception. Our content is based on surveys of small businesses and their crucial needs to thrive. The day will emphasize solid business fundamentals along with some potentially transformative strategies.
Jann will be leading the session, "Your Digital Marketing Guide: A Checklist". In the workshop small business owners will learn how to get the most out of their website, social media marketing and email campaigns. This workshop will walk them through the essential steps for successful execution of online marketing. They will get practical advice geared towards small business owners who have many responsibilities and not a lot of time.
Jann will also be a member of the panel discussion, "Find Me! Ways of Getting Found Online." The panel features marketing experts discussing the many ways businesspeople can improve their chances of getting their company found online.
---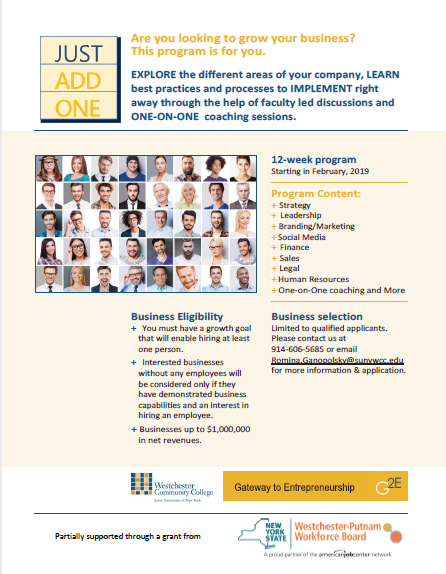 Just Add One Program, Westchester Community College
Beginning February, 2019
The "Just Add One" Program is a 12-week program designed to guide and provide information for businesses who are interested in growing and/or adding one or more members to your staff or team.
Jann will again be leading the Social Media and Digital Marketing session.
For more information contact Romina.Ganopolsky@sunywcc.edu.
---
Previous Gigs
Jann has previously led workshops or courses for the following institutions:
Advertising Club of Westchester
Association of Development Officers
Hudson Valley Gateway Chamber
Long Island University School of Management
Connections For Success
Fordham University
Westchester Community College;

GROW conference
Just Add One program

Women's Enterprise Development Center (WEDC)
As heard on...
Click now for a super-quick sound bite of Joe Connolly of WCBS radio quoting our own Jann Mirchandani!
Have Questions? Want to Book Jann?
Please let us know about your event.