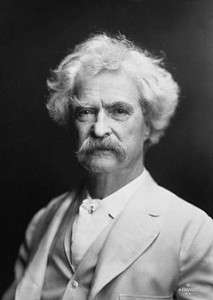 Mark Twain once said, "I didn't have time to write a short letter, so I wrote a long one instead."
In today's 140 character world of Twitter and 100 space LinkedIn status, how can we say more with less?
There is a measure of wordiness called the Gunning fog index, used to measures the readability of English writing to a target audience.
Long sentences detract.  Concise messages communicate. In any digital platform for marketing, less is not only more, but essential.
How do we not cloud readers with FOG? How do we keep long words from WEIGHING things down?
Here are some take-always for cutting to the absolute chase to arrive at the short letter.
Avoid The Fog
Choose short words with fewer syllables. Let a right-click be your fog light and find a shorter word option. Characters count.
Speak In Tag Lines
"Yes, we can." "I have a dream." "Luckiest man in the world." "Transforming lives."  What four words matter to your message most?  Use them consistently.
Know Your Purpose
Determine your goal first.  Establish credibility, inspire action, educate? Anything not on purpose should be cut.
Choose Visual Words
Paint a visual picture with limited words.  "Enter the whitewashed, 16th-century church to see volunteers restore murals" or "Organizational volunteers are involved in many fun art restoration projects." ?  Both have 10 words, and 66 characters. Which is more memorable?
Write And Cut
I tell my MBA students in the beginning of writing class to write a memo, review it, and then cut it in half. It is a great exercise in saying more with less. It's a challenge, but the remaining words will have more power.
What This Looks Like In The Real World
I was asked by a client to write content for an AOL Causes nonprofit promotion. Daily, a different nonprofit would be featured on AOL's homepage, linking to the nonprofit's custom AOL Causes page. Wow, 13 million visits to AOL's home page! Even a small click through on the logo and messaging is a marketer's dream.
So, what 25 characters, or "cause hook" will get someone to click through? Then, what headline will keep them reading? What 250 words will then drive readers to become fan of the cause? Easy, right?
In the end, for AOL Causes, we told a story. Reached for emotions, used simple words, and hopefully moved the cause ahead a bit in the minds of the audience, in 247 words.
Like What You Read?